FRIDAY 19/03/2021 – GO HARD STAY HOME
Live Stream in support of No Name Kitchen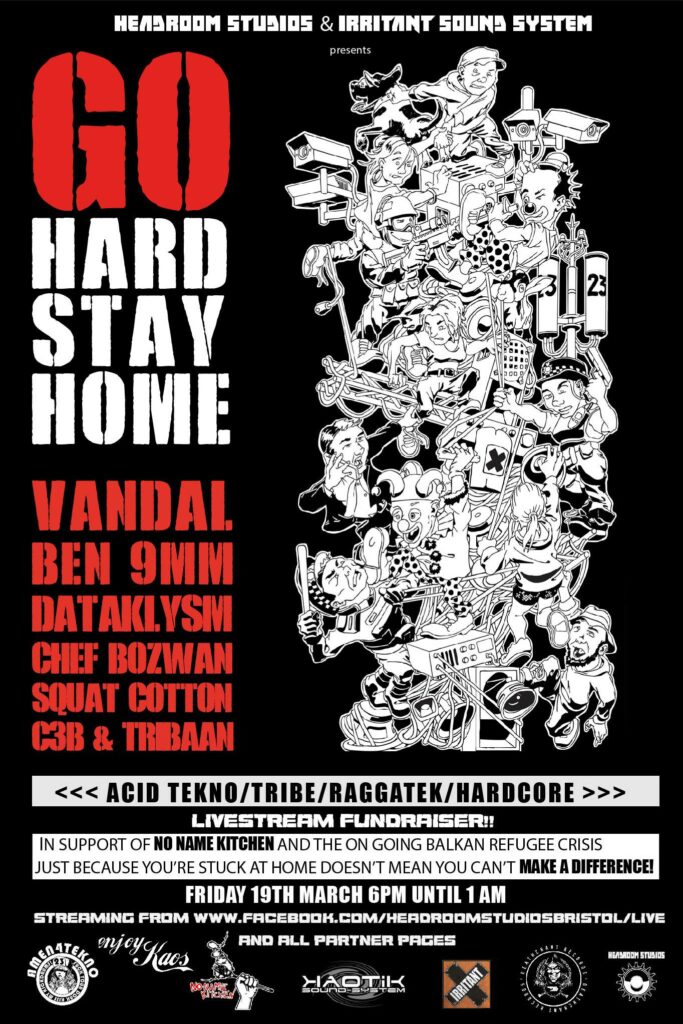 In association with Headroom Studios, Go Hard Stay Home is the first in our series of fundraiser streams in support of No Name Kitchen and the ongoing balkan refugee crisis.
7 Hours of Acid Tekno, Tribe, Raggatek and Hardcore from:
Vandal
Ben 9mm
C3B
Dataklysm
Chef Bozwan
Squat Cotton
TRIBAAN
JUST BEACUSE YOU'RE STUCK AT HOME DOESN'T MEAN YOU CAN'T MAKE A DIFFERENCE!
No Name Kitchen are a small NGO founded in Serbia 4 years ago. This amazing, diverse, collective made up of the subculture of European volunteer circles (based in Spain) has been providing help to refugees all around the "refugee hotspots" of the balkans and Europe ever since.
If you are interested in following their work please add them on FB at their group page or check out their website at :
http://www.nonamekitchen.org/
---
??/??/202? – Proton Art Opening Party
We would have loved to be announcing a smashing gig to kick start this project in style….but we must wait.
We are ready. We'll get to work as soon as it'll be safe to do so and boy, we'll have some fun!!
For now, though, stay safe, respect others and keep POSITIVE!!
Proton Art